TOP 5
Most Important Things To Know
Before Filing Bankruptcy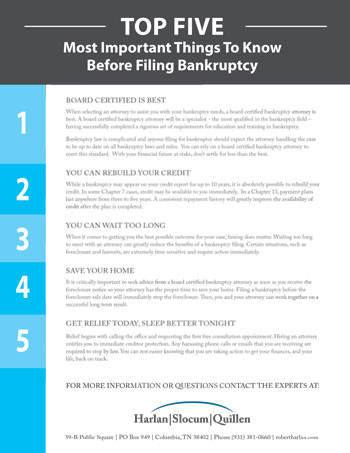 "I would recommend this firm to anyone that might be struggling. They treated me with fairness and respect. They answered my questions and helped me through a very hard period of my life.

During my asset review process the firm discovered a problem with my mortgage company. Keith Slocum proceeded to contact them and work on a better situation for me.  He also pursued another company that had taken advantage of me while trying to consolidate my debt.  He did an excellent job in winning that case. I am very pleased with all the extra time and help they committed to my case and situation."

- Kelly, Columbia Tenn.
"I had a very good and worry free experience at Harlan, Slocum and Quillen. I liked that anytime I had a question or concern your office kept me updated and also responded quickly. I felt your office has stayed with me through this whole process. It has been very nice with the mortgage modification to have your office to get this completed...otherwise my mortgage company would have delayed this transaction. Thank you!"

- Gail, Columbia Tenn
"My experience with Keith and his staff was one of confidence. Keith and his team helped me through a very troubling time in my life and helped me to see there is light at the end of the road.
I am pleased with how things have turned out and would firmly recommend Keith and his team to any one having to travel the difficult road of bankruptcy. They take a lot of stress out of the process."

- Charlie, Columbia Tenn
"I highly recommend Harlan, Slocum, Quillen. They have the best attorneys and are very affordable. If you want to be represented by the best then you need to hire the best. The greatest people that I could have ever ask to work with. They handled everything in a timely manner. I had no worries.

I was very pleased with the outcome of my case. Mrs. Megan Quillen was my rock. It means a lot to me for someone to go above and beyond. Megan and her team are the reason that I had a great outcome from my case. I could not ask for any better people to handle a case for me I would highly recommend Harlan, Slocum, Quillen to anybody that needs help. They are the reason I am holding my head up high now.

Great attorneys. I would not go anywhere else. "

- Thomas, Columbia Tenn
"I was freshly divorced, buried in debt, my house and vehicles were in disrepair.  I came to Harlan, Slocum and Quillen in desperation and, frankly, a little ashamed that I was in such a mess. Everyone was so nice, courteous, helpful — they really helped me in so many ways!

The route they recommended gave me the ability to make the payments and still keep my home. I'm thankful to have this chance to recover.

I don't think anyone could find a better, more knowledgeable, dependable firm. My questions, no matter how insignificant, have always been answered promptly and courteously."

- Donna, Columbia Tenn
"My husband and I are very appreciative of how Harlan, Slocum and Quillen handled our case. No one there made us feel lower than anyone else. We are very happy with the services you have given us."

- Joy, Lawrenceburg Tenn
"I would describe my experience with Harlan, Slocum, Quillen as being the greatest people I could have ever asked to work with. They handled everything in a timely manner and I had no worries. They took care of everything. I would not go anywhere else. 

I was very pleased with the outcome of my case. Megan Quillen was my rock. If she didn't have an answer at the time, she would get one and call me back when she said she would. That means a lot to me – for someone to go above and beyond. Megan and her team are the reason that I had a great outcome from my case.

I can say if you want to be represented by the best then you need to hire the best, Harlan, Slocum, Quillen. The Best. Take it from me. They are the reason I am now holding my head up high."

- Thomas, Columbia, Tenn
"The staff at Harlan, Slocum, and Quillen are friendly, professional, and skilled. They have always been ready to answer any question that I may have had and in timely and professional manner.

With the guidance and advice I received, I can rest at night knowing that I have someone in my corner to level the playing field.

Filing chapter 13 was one of the hardest decisions that we have had to make. Having someone who will give you honest and good advice makes all the difference. At Harlan, Slocum and Quillen you can rest assured that they will always give you the best advice and support that you can hope for. "

- Mark, Columbia, Tenn