The law office of Harlan, Slocum & Quillen, located in historic downtown Columbia, Tennessee, is committed to the exceptional representation of individuals and families involved in financial crisis, such as Chapter 7 or Chapter 13 bankruptcy. We believe that by concentrating so intensely on one area of law, bankruptcy, we are able to provide the highest level of service and expertise to our clients.
Our district area includes these southern middle Tennessee counties: Maury, Marshall, Giles, Lawrence, Wayne, Lewis, and Hickman. Residents in these seven counties will be represented by our Columbia, Tenn. location. Our firm is backed by an experienced and dedicated team of paralegal support to keep each case moving smoothly through the Bankruptcy Court system.
The firm consists of board certified consumer bankruptcy attorneys: Bob Harlan, Keith Slocum, and Megan Quillen.
Why Harlan, Slocum & Quillen?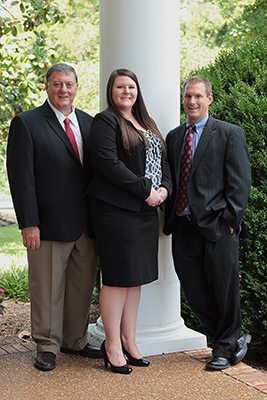 Our clients can expect to be welcomed by a caring and professional staff ready to listen to your needs and expectations. Our goal is to provide you with the specific service you need – foreclosure prevention, chapter 7 or 13 bankruptcy, mortgage advocacy, an end to harassing calls from debt collectors or, simply, advice. Most importantly we want to help you find a solution to your financial concerns.
At Harlan, Slocum & Quillen we are guided by three important values: convenience, compassion and customized service.
Convenience.
We know you your time is valuable. We have sufficient staff to provide you with the most convenient appointment times with little to no waiting. Early morning, late afternoon, and Saturday appointments are available to best accommodate your schedule.
Compassion.
Facing foreclosure, debt collections, or bankruptcy is often an emotional and devastating situation for our clients. That's why we always take a caring and compassionate approach to our client relationships. From business closings and job loss to medical crisis, we take special care to help you regain your financial footing.  We welcome new clients who are not certain of their best choice.  Let us help clear up confusion and offer real solutions tailored to your circumstances.
Customized Service.
Most importantly, we value being the most qualified and skilled professionals in our field to best serve you, our client. Focusing exclusively on bankruptcy law, we take seriously our responsibility to serve our clients and meet their specific needs and expectations. That's also why, as board certified bankruptcy law specialists, we believe we are uniquely qualified help you attain your goals.

Appointments are scheduled as quickly as possible and the initial consultation is always completely free of any cost or obligation. Schedule your free consultation through our convenient online scheduling service or call our office at 931-381-0660.