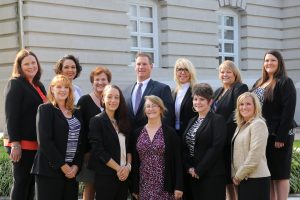 Harlan, Slocum and Quillen (HSQ), a debt relief law firm located in Columbia, Tenn., is proud to announce recent additions and changes to the staff.
HSQ welcomed new employees Tracie Gillis and Katie Riley in July 2017. Both will serve as case managers for the firm. Maria Williams was also hired in July. She will serve as case coordinator.
Additionally, HSQ promoted Sarah Elizabeth Hickman-McLeod and Sandy Pierce to the position of case manager.
"Our firm has a long-standing reputation for providing superior client and legal services," says attorney Bob Harlan. "We are pleased to expand our staff as our client base grows so that we maintain our very high standards."
HSQ has been providing debt relief services including chapter 7 and chapter 13 bankruptcy cases as well as mortgage advocacy and defense for the communities of southern middle Tennessee for three decades.
"The steady rise in clients is a strong indication that our neighbors value our philosophy of providing personalized bankruptcy care," says Harlan.