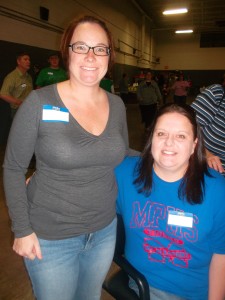 On Thanksgiving Day, Harlan, Slocum & Quillen (HPS) employees Jennifer Patterson, April Griggs and Sherrill Stokes, along with their families, embraced the spirit of giving thanks by serving more than 230 meals to those less fortunate at the Columbia National Guard Armory in partnership with Maury County Youth Advocates.
The menu featured traditional Thanksgiving Day items including turkey, mashed potatoes, dressing and a selection of pies.
"Seeing these families eat, relax and not have to worry about where their next meal will come from for a day was amazing," says Administrative Assistant Jennifer Patterson.
The group also served local law enforcement and medical units who were on call. Additionally, more than 125 meals were delivered to those who are unable to leave their homes.
"People were so grateful we fixed them to go plates so they could enjoy leftovers," explains Patterson.  "We also delivered meals to many homes where they rarely have visitors. To visit those folks and have a conversation, it just warms your heart."
Several employees supported the Thanksgiving event by donating financially or baking and cooking food items to be served. More than 30 pies and 20 packs of canned sodas were donated with help from HPS staff.
But the spirit of the holiday extended beyond staff to their families as well.
"It was a privilege for me to be able to help the community on Thanksgiving Day", says Harlan & Slocum Paralegal April Griggs. "I chose to take my daughters with me to show them it is always good to help when possible. They really enjoyed helping and asked to do it again next year."
"My daughter took away knowing that she helped someone who otherwise would have had been lonely and hungry," says Patterson. "She was happy to be able to give back to the community and can't wait for our next event."
Staff collected for the local Angel Tree Program in December.